TMA World Country Navigator
Create your own Cultural Profile and Compare it to Other Cultures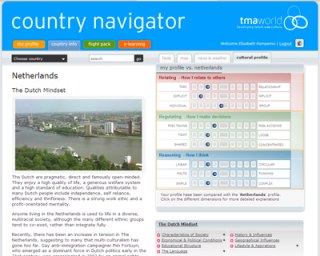 Whether you are moving overseas, doing business across borders or leading a global team, to be highly effective in today's international arena you need a deeper cross-cultural understanding - what we call 'cultural intelligence' or CI.
TMA Country Navigator© is a web-based tool that gives you valuable insight on how to successfully interact with people from different cultures.
Improve my awareness of my own and other cultures
Help me identify and understand concrete differences between cultures
Help me prepare for a meeting with another culture
Give me quick access to extremely valuable country information
Send us a mail and we will get back to you with more information about how the TMA World Country Navigator© can be used strategically in your company.