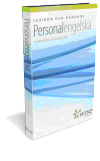 Lexicon and Handbook in Personnel English
The book is a tool for those who work in the human resources area. It is written for managers with personnel responsibility or specialists with Sweden as a base.
The lexicon contains the most useful terms and expressions in both American and British English and gives you advice and ideas on how to use English in different personnel situations.
Authors:
Margareta Neld and Adam Eisen
Inspirational Lectures on Inter Cultural Management
Margareta Neld inspires from the book Lexicon and Handbook on Personnel English on inter cultural management and how to use diversity as a source of creativity when many cultures are represented in your company or organisation.
The lecture deals with the following subjects:
Culture, a definition, why are there cultural differences
Increase awareness about cultural differences
How to avoid stereotyping
How to increase co-operation in an intercultural team
How to work with change in intercultural situations
How to use English in an optimal way in personnel situations
The lecture can also be tailor-made according to specific needs of a group. Ask for a proposal through the contact form.
Managing Cultural Differences
To deal with cultural differences in your company
How do we start when we wish to manage cultural differences in an organisation?
Cross Cultural Communication
How to Manage Virtual Teams
How to Improve Teamwork in Cross-cultural Teams
Contact MCD to book a lecture or to discuss a tailor-made lecture for your company. We will get back to you.